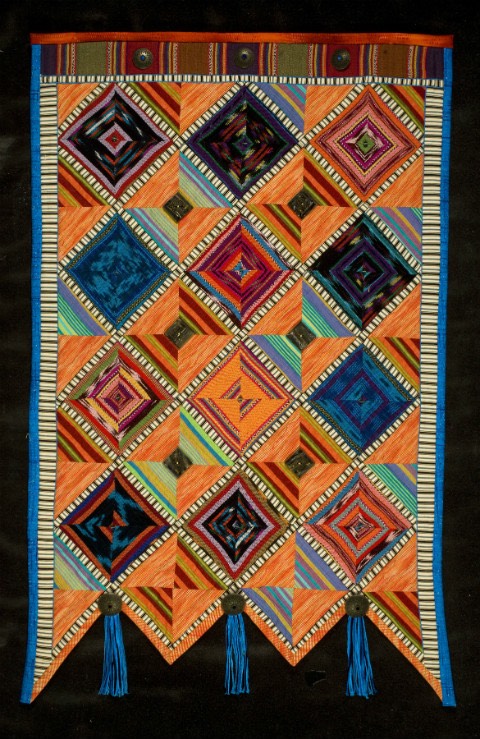 About this quilt
The inspiration for the quilt came from the beautiful textiles of Guatemala. By nature, most Guatemalan woven textiles have distinctive strip patterns. They are also bold with color and texture.
I combined the Guatemalan textiles with domestic printed fabric. I used a complementary color scheme (blue and orange) to enhance the boldness and strong contrasts. After cutting the striped fabric into 45 degree triangles, I assembled them to resemble the Guatemalan God's Eye.
I machine pieced the quilt top and machine quilted it on my home sewing machine. I added buttons, beads, and tassels that I made from embroidery thread.
Size:  19 1/2" x 32 1/2"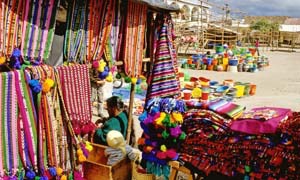 Guatemalan Textile Market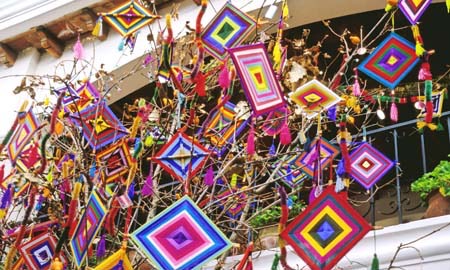 God's Eye Tree
Exhibited at
Arts Council of West Chester, Ohio juried show of mixed media at the Miami University Voice of America Center, West Chester, Ohio, 2011

Quilt Surface Design Symposium (QSDS) sponsored juried quilt exhibit at the Columbus Cultural Arts Center in Columbus, Ohio, 2009

Fitton Center for Creative Arts, Hamilton, Ohio Invitational mixed media show, 2008