About this quilt
Have you ever spent any time in Boston? Then you likely know about the beautiful brownstones. This quilt is a personal reminiscent of the brownstones around the universities in Boston. I wanted to capture the vibrancy, excitement, and general happiness of the area in the early 1970's. In the evenings, the special qualities of brownstones shone through. Everyone was home with their lights on, showing off the colorful transom windows, the awnings, the railings, the colorful curtains, etc.
I used a traditional quilt block, the log cabin, as the starting point. The construction technique is African strip weave-inspired. The strip weave textile technique is one in which large numbers of strips of woven cloth are sewn together, usually vertically. The weaver includes bright colors with repeating designs, and when sewn together create an overall asymmetrical pattern.
I used my own hand-dyed fabric, imported batik, and commercially printed cotton fabric. I machine-pieced in it and quilted it on my home sewing machine. i embellished it with couched embroidery thread and jacquard ribbon. The very detailed quilting is designed to draw you into the quilt to experience the excitement and vibrancy of its theme. Unfortunately, it is nearly impossible to capture in a photograph, the quilting detail because I used thread of a similar color and value.  
Size: 24.5" x 45"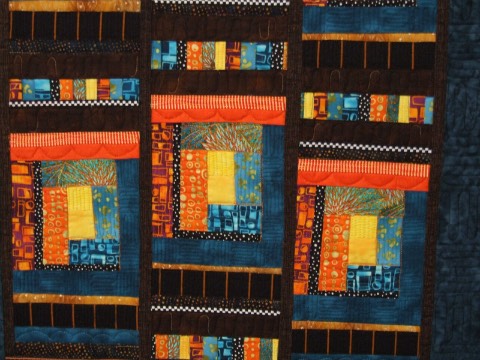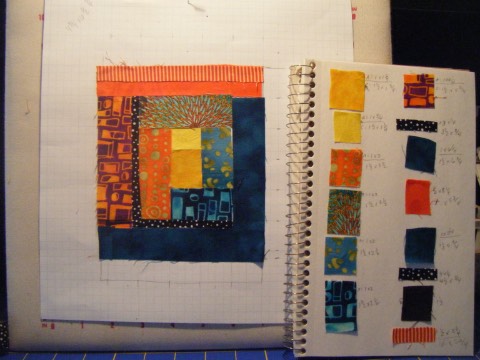 Exhibited at
Oxford Community Arts Center, invitational mixed media show, Oxford, Ohio, 2012

Greater Hamilton Arts Exhibit mixed media juried show at the  Hamilton, Ohio Fitton Center for the Creative Arts, Hamilton, Ohio, 2011