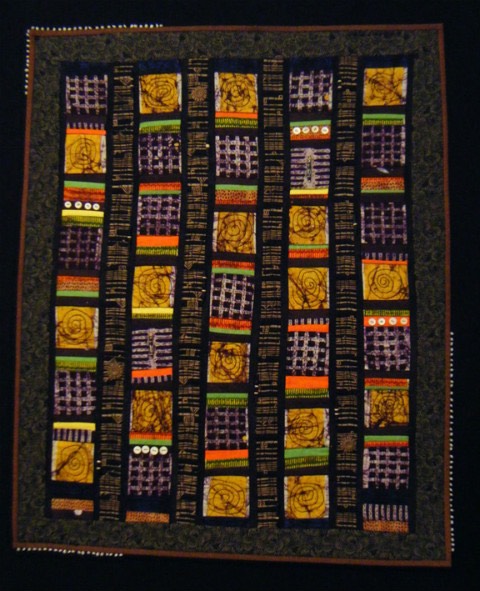 About this quilt
The inspiration for this quilt came from the West African Kente cloth.  The Kente cloths are made using the strip-weave textile technique in which large numbers of strips are woven into cloth and then are sewn together.  The weaver includes bright colors with repeating designs, and when sewn together create an overall asymmetrical pattern.
The fabrics in this quilt include African hand-dyed, hand-printed, and handmade batik; as well as Indonesian batiks, and domestically printed and hand-dyed fabric.  
I constructed the Kente-cloth inspired strips using only scissors and no rulers.  When the five strips were finished, they were joined together, as a Kente cloth would be. The final addition of beads and buttons is also African-inspired.  Many African works of art include these as decoration as well.
It was a very inspiring, fulfilling experience to take cloth that was handled by it's designer and maker, and use it to create an art quilt.  Thus, "From their Hands to Mine."
Size: 24" x 29.5"
Detail view of my quilt above. Below, a detail view of an old Kente Cloth.